---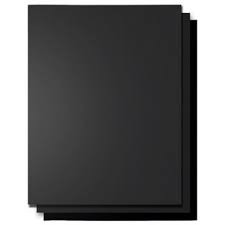 8.5 x 11 Black Gloss Finish Chalkboard Sheets
This sturdy paper has a chalkboard finish that's perfect for decorating with chalk pens or stick chalk in any color as it's surface provides the perfect contrast.  This thick paper card stock can be written on and wiped clean, just like a traditional chalkboard.

Convenient for camps, activity centers, classrooms, restaurants, stores, office use or home decor. It's perfect for teachers and great for organization as the surface can be wiped clean with a damp cloth or felt chalkboard eraser to use again and again.

Fun and handy for kids chores,grocery lists, family reminders, to-do lists, memo boards, playrooms, bathrooms or project work. Daycare, pre school, kindergarten, 1st graders can create fun gifts for parents and siblings using a craft safety scissor, stick glue and twine or ribbon to make necklaces, zipper pulls for backpacks, ceiling fan pulls, markers for glasses or bottles, greeting cards, notecards, door wreaths, door handle hangers.
Letter size chalk board paper is perfect for creating unique signs, custom decorations, and more!
Chalkboard Sheets can be framed with your child's artwork or can be used for chalk paintings and chalkboard wall photos.  Create a cafe like chalkboard frame in a small dining room space, place in between side board tables or on top of shelves.

Decorate for a party or special event and cut out chalkboard sheets into triangles and create reusable pennant banners to write on with chalk sticks, cut out and decorate mason jar tops to give as housewarming gifts or create cupcake or cake toppers for parties.

Use on the tops of mason jars for organizing kitchens or garages, adhere to the sides of clear mason jars for gift giving or DIY creations to sell. Use as markers for herb gardens or flower gardens for a professional nursery or a small do-it-yourself home farmstand business.