---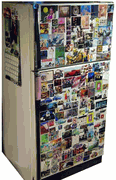 Water Resistant Inkjet Printable Magnetic Sheets with gloss or matte / satin finish
Photo quality magnetic sheets for inkjet printers are specially formulated with a water resistant surface in gloss or matte / satin finishes,  Designed for use with inkjet printers.
Design one large magnet in size 8 ½ x 11 or several smaller magnets that can be cut using a household scissor or any electronic cutter machine.
Sheets are inkjet coated for rich colors and vibrant photo reproduction when printed. Decorative magnetic sheets stick to all metal surfaces. Magnet sheets can be used for arts and crafts projects, save the date magnets, refrigerator magnets, signs or for organizing metal shelves.
Inkjet printable magnet sheets works just like inkjet paper. Just place your inkjet coated magnetic sheet into your color inkjet printer one at a time. Set paper for normal inkjet paper printing.
It's never been easier to make custom magnets for all of your room décor ideas.  Easily design and print the project you have been working on in your journal or sketch book. Let your artistic imagination take over by creating unique custom shapes or sketches. Magnet sheets are perfect for making  anything that you want to have around , hang up or spruce up.  Unicorns, rainbows, sparrows, hearts, lightning bolts, custom emojis.  It's simple to personalize anything.


Print any of your designs or pictures onto 8.5 x 11 inch full size magnetic inkjet sheets.
It's fun and easy for anyone to make your own inkjet magnets. Add your own brand, logo, graphic or unique image to create personalized magnets for yourself or a friend. Decorate or make a statement with your own magnetic designs printed on your desktop inkjet printer!
Create your own Save The Date Magnet, Refrigerator Magnets & Photographic Magnets
Design and create your own custom magnets for:
Business cards
Calendar magnets for home and office
Custom magnets for gifts
Magnetic photos of your children
Magnetic pictures of your favorite sports team
Memorabilia magnets and commemorate special events
Magnets of your favorite video game character
Pet portraits
Refrigerator magnets
School Picture magnets
Special occasions
Support our troop's magnet
Store Business signs
Weddings

Print anything you can think of on our inkjet magnet full size sheets such as class photos, art projects, maps, cartoons, calendars.  Magnetic Inkjet Sheets ensures that your photos, business cards, educational aids and announcements will stand out.
Save
Save
Save