---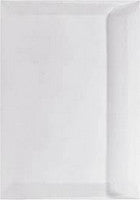 Envelopes 6 x 9 Vellum Translucent Clear
You can use a Clear Translucent Vellum Envelope to make sure people see what you're sending. Great for giving a glimpse of what may be inside.  Frosty envelopes have a superior see-through quality. Materials on the inside are visible from the outside. For recipients to glance your achievements as soon as they get the envelope. You will get professional and custom results by using our 6 x 9 frosty translucent envelopes. Add a pop of bright color, show off your brand or any other idea you have for these glassine envelopes.
Clear Translucent Vellum Envelopes are also USPS-approved.
Translucent clear vellum envelopes are made from 100% pure cellulose fiber, without the use of resins or other transparent agents. Our premium but affordable booklet style 6 x 9 envelopes are available in quantities of 50 envelopes per pack.
They are perfect when you need a see-through envelopes for your next mailing. Bring clarity to your greeting card project by using our translucent envelopes.



Crafted from premium translucent vellum paper with cloudless fiber formation.

Vellum envelopes have outstanding translucency and are recyclable, acid free, and elemental chlorine free with a glassine appearance.

Vellum Envelopes 6 x 9 Translucent Clear Vellum Envelopes

Great for use in direct mail, announcements, special events, invitations and general use. Tempt the receiver with a hint of what's waiting inside with our frosted envelope. Whether you have a designed printed greeting card, a colorful invitation, a photograph or a hand written note, you can fit your work inside these see-through envelopes.

-6 x 9 Booklet
-Pointed Flap - Flap on 9" side
-Natural Translucent vellum paper
-Frosty appearance with a Weight of 30 LB

Package Contents: 50 translucent clear vellum 6 x 9 envelopes
Please note that these particular 6 x 9 envelopes in clear see through frost are a special custom created item at our mill. It may take 2 - 4 business days to produce, pack and ship.  We apologize in advance for the time frame.
Save
Save