---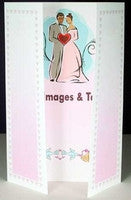 Tri Panel Fold Over / Gate Fold Greeting Cards
Printable Tri Panel Blank Greeting Cards,also know as gate fold tri panel fold over greeting card stock are designed for use with inkjet and laser printers.
Tri Fold Cards are unique. In a gate fold, the left and right edges fold inward with parallel folds and meet in the middle of the page without overlapping. Gate Fold Cards have 2 vertical score lines for easy folding after you have printed out on your inkjet or laser printer.

It's fun and easy to create your own announcements, wedding invitations, party invitations, celebratory event cards or special occasion greeting card. Tri Panel Vertical Gate Fold Over Cards are blank in order for you to design your own custom images or add your own digital photograph for a personal touch.
Vertical Fold Over Greeting Cards are:
Printable greeting card stock designed for use with inkjet and laser printers
Designed to work with greeting card and word processing software
Pre scored for easy folding
65 Lb. medium weight

Flat Cardstock before the fold is 8 1/2 x 11
Side Panel Dimensions are approximately 2  7 /8" in
Middle Panel Dimension is 5 1/2" in x 8 1/2 in
Tri Panel Fold Finishes:
Finish - The physical look and feel of the paper's surface
Smooth - Flat surface designed for crisp images
Gate Fold Cards, 65 Lb. smooth finish:
Pure White
Guaranteed for use in laser or ink jet printers and high-speed copiers
Acid-free
97 GE brightness rating.
Save
Save
Save