---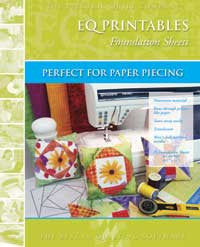 Tear away foundation sheets are perfect for paper piercing.
These Inkjet Printable Foundation Sheets are non-woven, rayon/polyester blend that feeds easily through any inkjet printer. The material, perfect for foundation piercing, is easy to see through and sew on, won't dull needles, and can be quickly torn away. Quilters and machine embroiders can use it as a permanent, stabilizing layer.
Package includes: 25 sheets 8½ x 11" foundation sheets for inkjet printers and laser printers with manual / envelope feed.
These are the perfect foundations for all your foundation blocks. Print right onto this soft non woven foundation sheet.
It runs through your Inkjet or laser printer like paper.
But unlike paper, it's translucent. So it's easy to see through.
And it's made of a rayon polyester blend that won't dull machine needles.
It tears away easily. Or leave it on for more stability.
Because it washes beautifully, with no shrinking, it's good for clothing projects as well as quilts.

This is a great new texture for your scrapbook pages, just print, let dry, then paste, tape, or sew it to your page.
Perfect for use with EQ5, EQ6, Block Base, Town & Country Patchwork, and Sew Precise
Made especially for foundations. Great for machine embroidery.