---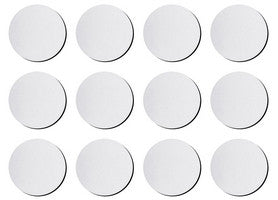 Circular Coaster Pad Package:
12 Round Coaster Pads, 3 1/2" in diameter by 1/8" thick
Our coaster pads have a white fabric top with the genuine black rubber (not foam) base.
Excellent for iron on transfers.
The fabric top is made of a superior bright white polyester material and it does not have a noticeable weave pattern. Therefore, your image will show the highest resolution giving you maximum detail, richer color and a smoother look.
The base of our round coaster pads are made of genuine natural rubber with an anti skid bottom. These coaster pads are commercial quality!
Genuine rubber base. Superior bright white polyester cloth top gives you the highest resolution print. Ultra smooth surface that locks in the sharpest details of your print.