---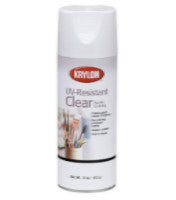 Matte or Gloss Krylon UV Waterproof Coating
This protective gloss or matte spray has long lasting clear finish which protects sprayed on surfaces from damaging UV light rays. All of your do-it-yourself craft projects and artwork designs will have a permanent, protective finish that guards against fading and is just right for inkjet papers, ceramic, plaster, glass, papermache, metal, wood, plastics, cement, acrylic paintings, press flower art, photography, inkjet canvas prints, paper craft jewelry, origami, artificial flowers. Great to spray on wreaths, outdoor lawn decorations and fence art that are exposed to the outside elements. Works well with any wood working projects as it goes on clear and easy, dries fairly quickly and helps with weathering. Specifications & Details:
Non-yellowing
Moisture Resistant
Clear Finish
Glossy or Matte
Dries in 10 Minutes
11 oz. Aerosol Spray Must spray in a well ventilated area, open doors and windows when working with this spray.
Shipping Methods:
Aerosol Spray Ground to Continental 48 States and District of Columbia only.
Please note that Aerosols do not ship air Domestic or air International.
You cannot choose USPS First Class or USPS Priority Mail Shipping at check out.
You must choose the Parcel Select Ground method when checking out in order for the Aerosol to be shipped.
FAA regulations prohibit the shipment of aerosol products via UPS Air or by United States Postal Service Air.
Aerosol shipments or any order that contain products in addition to an Aerosol will be mailed to the US 48 contiguous states by Parcel Select Ground Service only. Aerosol Cans are subject to a Delivery Area Surcharge Fee which is already included in the Ground shipping fee.
Please use the Aerosol UPS Shipping drop down menu at checkout in order for your order to be completed and arrive at your destination. As Aerosol Sprays are available for shipment to the US 48 contiguous states via Ground only, delivery area surcharge fees are added into the Commercial / Business Addresses and Residential Addresses for Ground shipping.
If you choose a different method, your order will be placed on hold until we can contact you to make a change or correction.  First Class Mail, Priority Mail, Air Mail, Express Mail cannot be used with an Aerosol. 
If you have a coupon code for free First Class Mail Shipping or a discount code for Priority Mail, the codes will be invalid for Aerosol Cans.
Thank you for your understanding.