---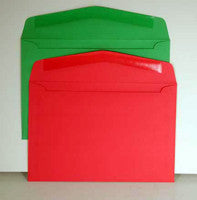 6" x 9" Green  or Red Envelopes
Make your holiday greetings stand out with red or green envelopes. Our vibrant colored premium 6 x 9 envelopes are an excellent choice for the upcoming Christmas Holiday.
*Vellum finish has a bumpiness, hold the envelope at an angle under light you will see that there is a bumpiness to the envelope's finish. Change the angle and the finish will look smooth.Vellum finish envelopes are also perfect for: Inkjet and Laser printing heat embossing rubber stamping stencil embossing
Vellum finish is the most versatile of all the finishes for crafter's to use. Note: Vellum is a finish - Translucent Clear Vellum is a paper. 30% Post Consumer waste, elemental chlorine free and acid free.
Envelope specifications:
6x9 Green or 6x9 Red
Red or Green
60 Lb. Text / 24 Lb. Paper Weight
Vellum*
Pointed
50 Green or 50 Red
Laser printers or Inkjet printers
6" x 9" Green Envelopes or 6" x 9" Red Envelopes for Printable Half Fold Greeting Cards