---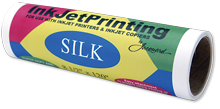 Jacquard Silk Fabric Roll For Inkjet Printing
Jacquard Inkjet Silk fabrics are paper backed so they will easily go through your inkjet printer.
Just peel the inkjet Silk fabric from the paper backing after printing.
Jacquard inkjet fabrics are: Light fast, soft & supple
You can use images from:
Anything you create or can access on your computer you can now print on Jacquard's inkjet Silk fabric.
Scanned photos, web pages, digital cameras, photo cd's, flash drive, paint & draw programs, clip art
8 1/2" x 120" Jacquard silk inkjet fabric roll is soft & supple retaining the natural fabric hand. Create a retreat from the world in your own home. Design a small nook in your house with romantic accessories created from a Jacquard Silk Fabric Roll for Inkjet Printing. Use silk rolls for scarves, headbands and sarongs for fashion accessories, create a silk draped canopy, scarves for windows dressings, curtains, window treatments, hanging bows to adorn bed posts and spiral staircases. Add a touch of opulence with silk fabric roll material and create a wall tapestry, French photo board or memo board with Jacquard Silk Rolls.
Jacquard Inkjet Silk Fabric Instructions
They are not transfer paper and do not contain any sort of adhesive.
To adhere the fabric to your project you can sew or use a fusible bonding material such as Stitch Witchery, Fus-O-Bond, or Wonder Under Craft depending on the surface you are adhering to.
Steps:
Before you print onto your fabric sheet, run a test on paper to check for orientation and alignment of your image.
You may also want to change your printer settings to get the most ink onto the fabric as possible up to the point of bleeding. This way you will get a more saturated image.
Every printer is different so it is a good idea to test different settings.
Load one sheet of Jacquard Inkjet Silk Fabric at a time and print your image.
Peel the fabric from the paper backing.
Let dry for 24 hours if item is to be washed. Hand wash with cool water and light soap.
Your printed fabric is now ready to use!
Jacquard Silk Inkjet Fabric Roll
Sheet Size: 1 Silk Fabric Roll 8 1/2" x 120"