---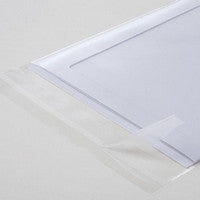 Crystal Clear Bags 5 15/16 x 9 1/4 with Adhesive Strip on the Flap
100, 5 15/16 x 9 1/4 clear bags per package
Clear Bags traditionally have a top flap with a re-sealable adhesive strip allowing it to be folded and sealed over the bag's opening. It's as easy as inserting an item, peeling the adhesive cover strip, and then folding and pressing the flap to the bag to seal it.
Crystal clear transparent plastic envelope is perfect for sending photos, announcements, and more which seals by the convenient adhesive strip along the flap. The flap seal allows for items to be smaller than the height of the bag as the flap seal can be folded past the opening of the bag if needed. These Crystal Clear Bags 5 15/16 x 9 1/4 are ideal for sealing 1 Half Fold Card or greeting card and A9 envelope to give as a gift at an event or party. These clear bags are a great accompaniment to our greeting cards and envelopes if you are handcrafting cards and then selling your creative stationery on etsy.
Crystal Clear Bags 5 15/16 x 9 1/4 with Adhesive Strip on the Flap Clear Bags are made of a superior acid free and lignin free material. All Crystal Clear Bags bags are safe for conservation and the environment. USPS approved. When mailing in plastic envelopes be sure to use self adhesive stamps.