---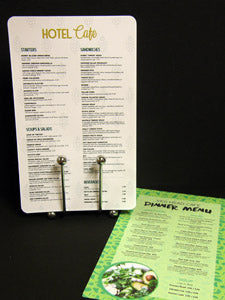 Menu Cardstock Rounded Edge
Menu Cardstock Rounded Corner
25 Sheets per package
Color: Smooth Bright White

Disposable Large Format Menus are available in a blank white rounded edge 8 1/2 x 14 legal size. Single use paper menus can be used for restaurants, cafes, coffee shops, food trucks, everyday convenience stores, delis and catering companies that must follow the recommended guidelines.
As a new mandate, disposable menus help protect dining areas. Our disposable single-use menus are a safe option for all dine in and take out arenas to ensure there is no point of contact between patrons and essential restaurant workers. As the use of disposable paper menus is strongly encouraged, it is recommended that they be discarded after each customer use.
Takeout, delivery and dine-in restaurant menus can be used and then thrown away for sanitary purposes. Adapt your dine-in menus with restaurant reopening guidelines of throw away menus.
A disposable menu is normally limited to a single large sheet. Our menu sheets are a 55lb weight which can be used in any inkjet printer, laser machine or copier. If you have an extensive menu list, this larger paper size is ideal.
Also available are 8 1/2 x 11 size plain blank sheet menus for a limited edition menu items.