---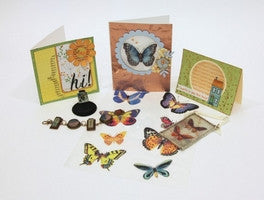 Clear Adhesive Backed Inkjet Film
Computer Printable Inkjet Film with adhesive will make designing your scrapbook pages and paper crafts more creative than ever!
Clear inkjet adhesive film is not pre-printed to allow unlimited creative possibilities. Computer printable inkjet film is a clear adhesive inkjet coated film that is quick drying and is designed to accept color. Grafix Clear inkjet film prints without smearing, running or pooling and yields vibrant color with sharp detail. Blank Transparent Inkjet Films with adhesive use a polyester base film for archival safety and are acid free.
Printable Inkjet film w/ adhesive can also be used for creating seamless layering, rubber stamping, embossing & adding dimension and texture to all paper crafts.
Blank Transparent Inkjet Films with adhesive adheres with ease using a self sticking backing.
Clear Inkjet Film is easy to use. Blank Transparent Inkjet Film is polyester based with permanent adhesive. Just print peel and stick. No mess.
Grafix transparent inkjet film is designed for use with inkjet printers, allowing creative unique design ideas. Clear inkjet adhesive film is great for overlays, journaling, photo's, shaker boxes, see through effects and clear tag art.

Computer Printable Clear Inkjet Film with Adhesive
Grafix Film Sheet Size: 8 1/2 X 11